Beauty by Echika – Popular hair extensions wholesale company

Beauty by Echika offers a range of hair extensions, hair supplies, accessories and more for shoppers at the most affordable prices.
Hair extensions are loved by women because they are stylish, trendy and can completely change the look of the wearer. Beauty by Echika is a popular wholesale company known for its wide range of hair extensions.
Many women think hair extensions are expensive and not for everyone. Therefore, Beauty by Echika ensures that the hairpieces are loved by everyone – therefore, the company ensures that the extensions are affordable. When the company was initially launched, it focused solely on hair salons as a lot of their supplies came from salons, but now there are products available for everyone. However, there are special offers for hair salon owners.
Echika mentions:
"We want to be able to meet the needs of each hairdresser and their clients. That's why hairdressers can also fully customize our collection by choosing from fifteen different structures and four colors in one extension piece, available up to 80 cm in length. It is also possible to have shadows made in different proportions. This way you can provide every customer with the right color and structure. »
Salon owners are welcome to visit the showroom and view the products available. They have the opportunity to check all products before placing an order.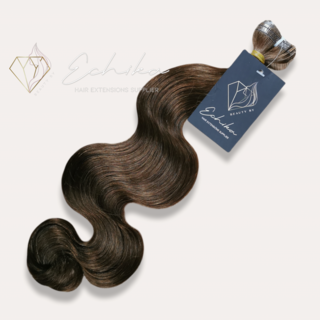 Large range of products :
The company offers an extensive line of products including Tape Extensions, Nano Wefts, Hand Tied Wefts, Flat Wefts, Euro Hair, Machine Wefts and more. Buyers can visit the online store and order products after viewing their wide range of products. The products are categorized into different categories including hair extensions, hair accessories, care products, styling tools, supplies, and hairpieces. Those who wish to further their knowledge can also go through their blog section which has several informative articles related to hair extensions and hair care.
That's not all – Beauty by Echika offers customers the opportunity to create their own brand. They aim to help hairdressers offer something unique and more to customers. Echika says "By affixing your label to the extensions, you create exclusivity for your customers."
To browse the products online, please visit: https://www.beautybyechika.nl
About Beauty by Echika:
Beauty by Echika (www.beautybyechika.nl) was founded about five years ago by 25-year-old Echika Hagedoorn. Echika was extremely passionate about hair extensions and hair work, which led to the founding of the company. The company offers a wide range of products with products available at the most competitive prices.
Media Contact
Company Name: Beauty by Echika
Contact person: Media Relations
E-mail: Send an email
Country: Netherlands
Website: https://www.beautybyechika.nl/en/