BIGGHAIR – Vietnam's very first hair extensions office and store in Lagos, Nigeria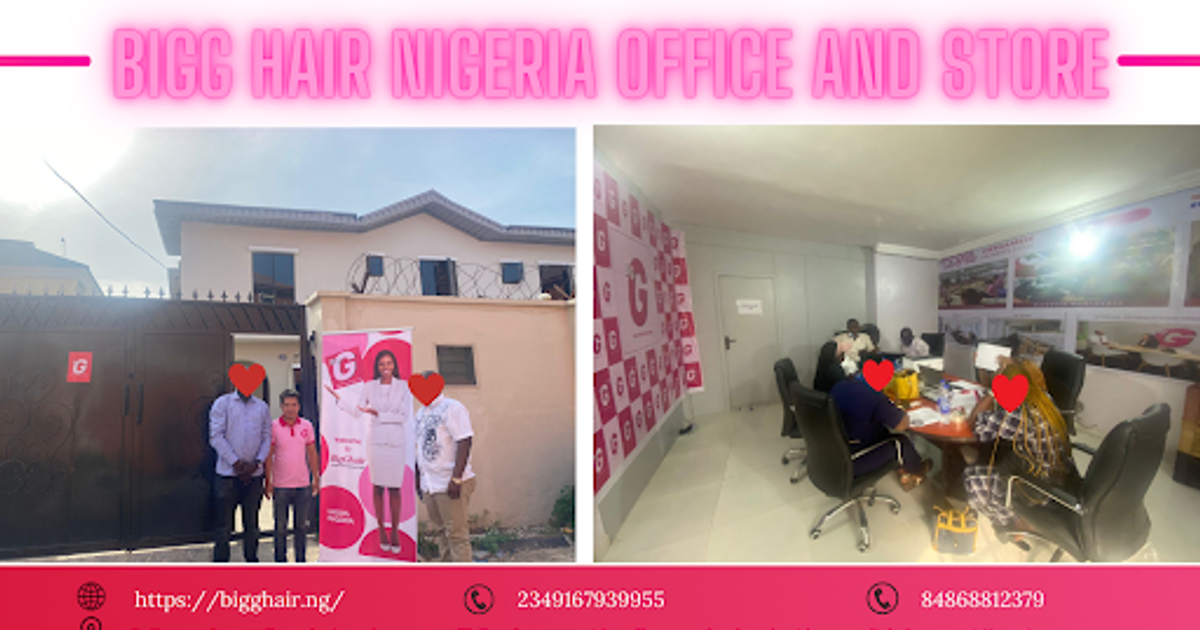 This is a milestone in a long-term strategy for the company to spread the brand and become one of the biggest hairdressing companies in the world within the next ten years.
Open the first store in Nigeria
With the desire that lovely customers can shop more easily, we pioneered the opening of the first store in Nigeria. Although he says this change is a bold step, BigG is determined to make it happen. We are proud of ourselves when we are the first company in Vietnam to set up an office in Nigeria. Overcome serious difficulties of location, sales representative or government policies; a store opened in early 2022. The position of the store is in the capital Lagos, which is particularly convenient to find.
Compared to the previously complicated purchase process, we have made it faster and easier from now on by opening a naira account. You no longer have to deal with common customer problems when buying Vietnamese hair products. Don't waste too much time possibly 1-2 months for lead time and shipping, no contact with agency for money transfer or exchange rate. You just visit the store, check the goods and make the payments directly by naira without going through any intermediary. Not only is shopping convenient, but you also save time and money.
Moreover, we have also built an always available warehouse of more than 300 kilograms with many models and sizes to meet all customer requirements. Customers can feel free when they go directly to the store to check out and pick up goods in the Lagos area. If the customers are in other area, the product will be delivered quickly from our office.
As you know that trust is the most valuable and hardest thing to achieve, we believe that building a transaction desk and opening a naira account is the best way to gain trust from clients. When the trust is strongly strengthened, we can become long-term partners and cooperate with each other for development. BigG is the only company in Vietnam that can do this right now and we have every right to dream of the successful growth of the company in Nigeria.
Research and innovate to create new products
A bad hair day will take up your whole day, literally and figuratively. Therefore, looking good with silky hair is one of the first things to start a new day. In empathy with customers' anxiety, BigG is aware of the mission of bringing top quality Vietnamese hair to customers. We hope that BigG can play a notable role in honoring the beauty of Nigerian women.
All things are difficult before they are easy, BigG has spent a lot of time researching, testing and developing new products to determine the trending product lines that best suit the tastes of Nigerian consumers. At first, we tried to progress with extremely thick super double stretched products at the bottom as well as single and double stretched products that were suitable for almost all individuals. After that, we realized that 80% of women in Nigeria prefer bone straight hair. We immediately invested in research technology and focused on product refinement. However, we struggled with hair issues during a test period where bone-slick hair requires high technique and needs to achieve a super-straight silky standard. After improving times, we are confident that our product has become a perfect suitable for this market.
Besides, 26 other textures are also designed to meet all customers' requirements. Specially to match bundles, we are launching 2×4, 2×6, 13×2 and 4×4 closure/frontal lines in various sizes and styles. Customers can freely come to the store to choose the most suitable product. we believe that undergoing numerous tests and innovations, our products will satisfy all the most demanding customers.
To have a radical change that makes BigG different from other suppliers, 18 colors were researched to diversify a customer's choice. These are the trending colors in the market, from the darkest to the brightest like pink, red, orange, blue or green, etc. Customers can choose the texture, length or colors as well as their hair more easily from our catalog.
Reasonable price with top-notch hair quality
To obtain products with competitive prices and lasting quality, BiG has intensified its investment in the construction of its factory. Our hair factory was located in remote areas of northern Vietnam, modern machinery and equipment were directly imported from Europe, and well-trained experienced workers. We try our best to reduce expenses to get a reasonable price without degrading the quality of the products. So we are confident that BigG is one of the best price hair suppliers.
Besides retail customers, a large percentage of our sales come from hair vendors. We have different levels of prices and customers with the aim of encouraging friendly relations between customers and sellers. If you buy with big order or become our long-term partnership, it means you will save more when you buy. Making profit is essential, but it is not the priority. We have a lot more to worry about, and we're doing our best to work out policies that might be most beneficial to our customers and to ourselves.
If you need information or assistance, do not hesitate to contact us at
Nigeria office address: 6 Ome close, Canal view layout, off Osolo way, Ajao Estate, Isolo via Airport Rd, Lagos
#FeatureredPost #FeatureByBigG