hair extensions for black women, KinkyCurlyYaki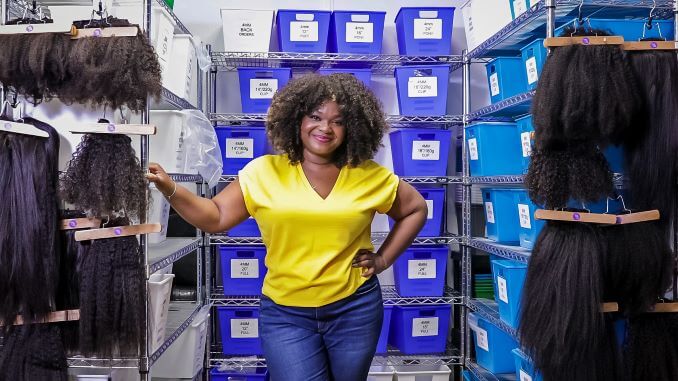 KinkyCurlyYaki is a Toronto-based e-commerce company that sells hair extensions for black women. We spoke with Vivian Kaye, the owner, to find out more about them.
What is your company called and what is it for?
KinkyCurlyYaki – an e-commerce company that sells premium textured hair extensions for black women started in 2012. Additionally, I'm a content creator and podcast host.
What made you want to do this job?
I was trying to solve my own problem while running a wedding business. I needed a protective style/hair extensions that looked like my hair but couldn't find it. So I did everything to find a solution. Wearing the solution, I received feedback that it was a product the market needed, so I decided to take the plunge.
What is your clientele/demographics?
Black women who wear their hair natural, 25-44, US/Canada
How does your business make money? How it works?
Potential customers visit our website and make their purchases.
Where in the city can we find your profession?
On line!
What is the best question a potential client could ask a member of your profession when comparing services? Also give the answer.
What is the difference between your product and what I can find on major marketplace websites?
I am a small business owned by a black woman who started her business to solve our problem and have served thousands of customers for almost 10 years. The random non-Black owned night business doesn't understand our struggle firsthand, but I do.
What's the best part of what you do? What's the worst part?
The best part of what I do is provide a solution to help black women feel more confident, especially in the workplace. -whether in person or on a virtual call.
The worst part is having a supply chain issue that was disrupted during the pandemic, but I just want to take lemons and turn them into lemonade! I turned to creating entertaining and timely educational content for small businesses that needed to go online urgently. I also relied more on my personal brand. I host a podcast called Business Class: Build it Braver by American Express. It's a show where small business owners can learn from the real experiences of seasoned entrepreneurs turned mentors.
What's your favorite joke about your own profession?
How do you know if someone is an entrepreneur?
Don't worry, they'll tell you
Where can we follow you?
On Instagram.
Listen to my podcast here.
PAY IT FORWARD: What is another local business you like?
So many to mention! Bravo to One More Cocoa, Lexi Balloons and Kaela Kay Boutique.