Kim Kardashian Brings Back Super Long Wet Look Hair Extensions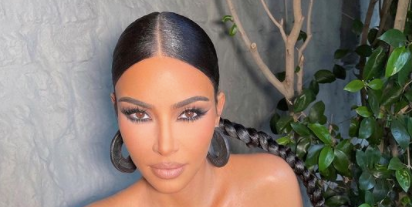 If there's one thing we can all say about Kim Kardashian, it's that the reality star has a signature look. I mean, come on, she managed to walk the Met Gala red carpet as a silhouette and we all still knew it was her.
The thing is, once you find your signature look, you tend to stick with it. For the past few months, for Kim, it's been a no-makeup makeup look involving a bare lip, subtly contoured skin, groomed brows and neutral eyeshadow tones.
Instead, she let her clothes do the talking. In her latest Instagram post, Kim sports a head-to-toe monochrome moment. Not to mention those super, super, suuuuper oversized sunglasses she still wears these days—we love seeing you promoting proper sun protection for the eyes, Kimmy.
But the future lawyer also gave us another one of her epic beauty moments and that's a good thing. In the photos, Kim is rocking super long hair extensions — but instead of sweeping them into a bouncy blow-dry or straightening them, she's rocking wet-look curls.
In fact, this look makes me feel a bit nostalgic. Remember when everyone used Garnier Fructis mousse in grade nine for wet, crispy curls? It gives me that – but in a very classy way, of course.
This content is imported from Instagram. You may be able to find the same content in another format, or you may be able to find more information, on their website.
Her hair is smooth and flat at the roots before falling into easy and breezy wavy curls and I have to say this look is perfect for summer hair.
Now if I could just dig up some crunchy jelly. And huge sunglasses, while I'm at it.
This content is created and maintained by a third party, and uploaded to this page to help users provide their email addresses. You may be able to find more information about this and similar content on piano.io