With a latest fundraising of $40 million, hair extension brand Mayvenn expands its partnership with Walmart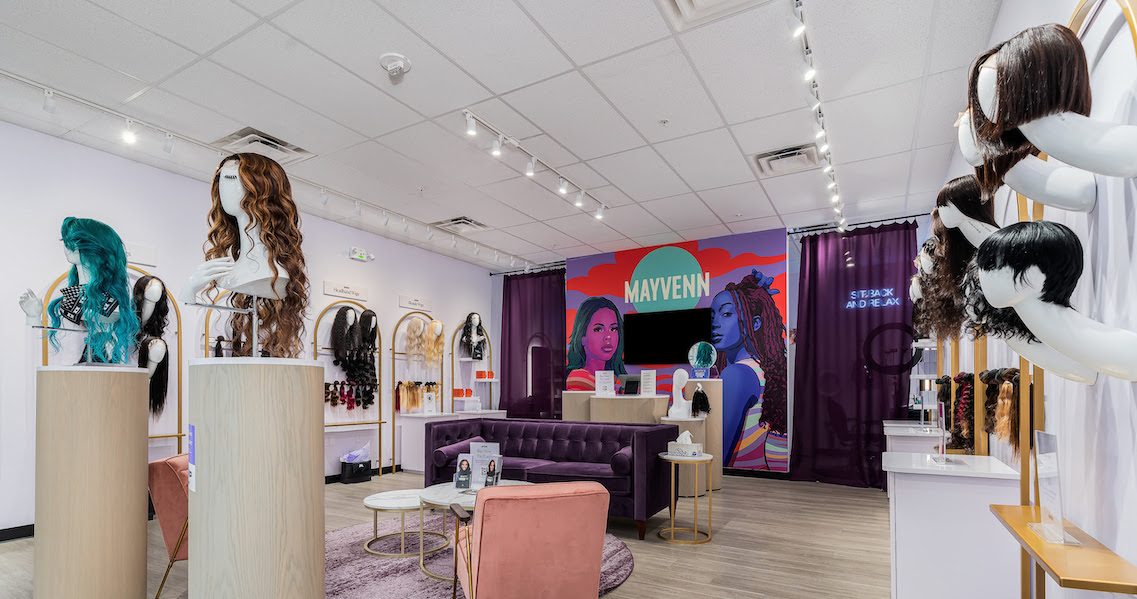 Tech hair extension company Mayvenn aims to disrupt the market with its latest funding round.
Mayvenn raised a Series C round of $40 million on July 13, bringing his total funding to $76 million. The round was led by Cleveland Ave, with participation from the Growth Equity business within Goldman Sachs Asset Management and Andreesen Horowitz's a16z fund. The funds will help Mayvenn expand its beauty salons, where customers can purchase hair extensions and wigs and digitally browse local stylists in the Mayvenn network to book salon services. The shows will expand to 400 Walmart locations over the next 4-5 years, fueling product expansion and introducing more personalized services. The Mayvenn Walmart partnership began in 2020 and currently consists of five locations in Texas.
Mayvenn started in 2013. Its business model is centered around a DTC e-commerce store and marketplace for salon services, which drive new clientele to its network of more than 50,000 stylists nationwide. Stylists can ask their customers to buy from the company's site to receive a 15% commission for each purchase and $100 free hair for every $600 sold. More than 65% of the company's revenue comes from its partnerships with stylists, said Diishan Imira, CEO and co-founder of Mayvenn. In 2018, Forbes reported that the company sold $80 million worth of hair extensions. Imira said that to date, Mayvenn has paid stylists $35 million.
"[There] is now a general recognition in the business and corporate community around the importance of [extension] products but also African American women [as consumers]", Imira said. "And [hair extensions and wigs] is one of the last segments of beauty that hasn't been touched by the big box stores.
It's a one-of-a-kind beauty service for Walmart and an atypical offering at a big-box retailer. However, CVS piloted Glamsquad services in 2018 with four locations and has since expanded to 50 in 2019. Ulta Beauty also offers hair, skin and brow services, and has become the go-to retailer to accelerate the growth of hair marks.
Mayvenn's customer base is primarily made up of black women, Imira said, adding that its product expansions into new styles, colors and textures will help expand its customer base. Wigs, ponytails and other creative extensions pushed the category into a more experimental space and encouraged the adoption of these products as accessories over everyday styles.
Mayvenn will also begin offering more personalized wigs to customers at its Walmart stores. For example, customers can buy Mayvenn extensions and go to a Walmart store to request that the extensions be shaped into a specific wig style. Mayvenn also works with wig makers within her network to create unique wigs to sell locally. Customers can choose to buy them and have them modified as they wish. Mayvenn hair products are made from virgin hair and range from $56 for a 10-inch bundle to $380 for a 24-inch wig.
"Personalization and collaborating with stylists is a big part of where we're headed with our omnichannel strategy and how we want to differentiate ourselves from beauty stores," Imira said.
Darryl Spinks, Senior Director of Walmart Services, added, "Supporting diverse businesses is a priority for Walmart. Innovative companies like Mayvenn bring a fresh perspective to a segmented industry. They make products and services more accessible while giving other small business owners an opportunity to grow. »
Walmart has strengthened its beauty focus over the past three years. It first started by targeting DTC brands like Harry's to introduce into its physical locations before launching lively indie lines and co-incubating exclusive brands with established companies like P&G. Most recently, he partnered with UK beauty retailer Space NK for his curatorial expertise.
In many ways, innovation in hair extensions was inevitable. Over the past couple of years, brands such as UK-based Ruka Hair, Gen Z-focused Waeve and ethically-sourced Luxy Hair have come to market alongside the star's Pretty Mess Hair brand. The Real Housewives of Beverly Hills", Erika Jayne. The hair category has seen upheaval with new offerings from brands including bond-building products, scalp care and color, for example. And the visibility of the natural, textured hair space and the burgeoning entrepreneurship for black women, in particular, has elevated the black consumer and their hair needs to the forefront of the hair conversation. Beauty supply stores have long been the primary sources for extensions and wigs, as they have a strong black clientele. In the United States, there are 9,000 stores specializing in black hair care and cosmetics, according to Business of Fashion citing data from the Black Owned Beauty Supply Association trade group.
In addition to product expansion from Walmart and Mayvenn, Imira sees opportunities for international expansion and development of software-as-a-service solutions for hairdressers.
"Mayvenn aims to deliver a first-class beauty experience for women by partnering with stylists and delivering unprecedented savings to these important entrepreneurs," said Ben Horowitz, co-founder and general partner of Andreessen Horowitz. "The relationship with Walmart moves the transaction from the virtual world to the physical world and significantly expands Mayvenn's reach. We think they are now on their way to becoming a top women's beauty brand.